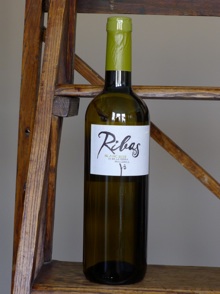 New wine arrival!!  November 2013
I tasted this wine in April 2013  when the weather was wet and changeable in Mallorca. I loved the wines depth and integrity: it has a real worthiness and direction to it.
This wine is made from 85% Prensal Blanc and 15% of the lovely Viognier grapes that they have here in Mallorca.
Mr Whirly says:
" This wine has its own identity, which I like. Its full and rich with some lovely expressive fruit. The Prensal Blanc provides the fruit and the Viognier the depth. I think this would be a lovely bottle of wine for Christmas day morning to get you in the mood. It has a hint of Christmas spice to it, and all things nice! Once I have tasted the wine with clients in the next few weeks I shall add more detailed notes.
Alc vol: 13%
Winemakers tasting notes: ( to follow shortly)