(pronounced Will-r-met!)
The road to Pinot country
My first venture north of California to discover Oregon was in November 2004 and I was on Highway 5, the main freeway from San Diego all the way up to Seattle ( by the way did you know that odd numbers head north-south and even numbers east-west, hence route 66, probably the most famous takes you from Chicago in the north to Los Angeles in the south west) in the trusty ( well actually since this time I have discovered its not quite so trusty, breaking down 25 miles short of The Black Rock Desert as the sun was coming down one evening in August 2006) 900 Saab Convertible, silver-grey. I have been working on Whirly wine for a year or so and I am heading all the way to Seattle to see an old friend "Scouser John" and his family for Thanksgiving.
There's an alternative route to Oregon, the much slower and more attractive 101 and 1 up the coast, which I have since taken in the Summer of 2005. It's very windy and curvy but the wonderful route 1 is sublime and although my favourite part of this road is around Carmel and Big Sur and south towards Santa Barbara, which I first drove in 1986 after leaving Los Angeles, and arrived 4 days late in San Francisco delivering a hire car, naughty boy, but it was worth it at the age of 19. It is very peaceful and quiet on this northerly section; open and empty sandy beaches abound, reminiscent of a recent trip to the Western Isles of Scotland in May 2009 which was barren and gorgeous. There are little hidden caves and the Redwood National Park just north of Eureka is truly amazing.
But back to route 5. This takes you up and over the Cascade mountains at Siskiyou Summit just north of the  California border which at a height of 4310 feet is the highest point on this very long freeway that is an integral part of the Pan-American highway that stretches 48,000 kilometres. I remember stopping just south of here and wandering off the freeway to snow covered tracks and railway lines, a picture of which is below. It was pretty cold up there in the Saab Convertible, I was wrapped up, hatted, scarfed and gloved.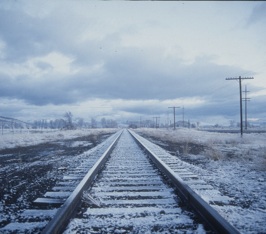 I followed my nose as I headed north and eager to get off route 5 and explore I turned left just north of Eugene, tree loving capital of the world, into an altogether greener and wetter countryside than where I had some from. I crossed the Willamette River on the old " Wheat Sheaf Ferry ", that was jerked across the wide Willamette by chains: this was the first pointer to me that this was country that had not changed in decades. I now call it "Back to the Future" country, it's literally like being transported back to the 1950's, and this is nothing but a massive compliment. They pride themselves on being a little bit more laid back and real up here. They wear dungaree's and long beards, they drive old Massey Ferguson tractors, that have been ploughing the land for 60 years and are still moving; the land here is anything but wine country, indeed if you did not know there were wines here you would quite easily miss them.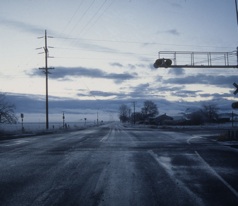 I work with two wonderful vineyards in the Willamette, again please click on the links below o to see their wines