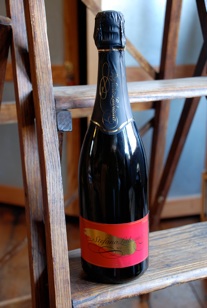 Possibly the nest winemaker in Tasmania and Australia? That's a matter of opinion but he's certainly up there!
I have some great wines and vintages from this winemaker.
Please click on the links on the right, below to see the new Estate Pinot Noir 2008, Merlot 2008, Chardonnay 2008 and also Riesling 2010.
I also have some lovely wines on this page, older vintages of the 2005 Pinot that is now very rare and also some lovely old NV Brut which is drinking really well. Pictures of these two wines are on this page.
Ok, here's a wee introduction to Steve's very special business.
Stefano Lubiana Wines is rated 5 red stars in the James Halliday Australian Wine Companion 2011.
In May 2010, Decanter's Andrew Jefford named Steve Lubiana as one of Australia's ten bravest winemakers: 'their wines accurately, uncompromisingly and sometimes beautifully reflect their origins. They are like nothing else on earth."
I did not manage a trip across the Tasman sea to this very separate part of Australia in 2000 so I had to wait until February 2006 before I flew into the little airport at Launceston on the River Tamar in the north of the island. Tasmania is Australia's smallest producing wine state with 700 hectares of land vines. The smaller vineyard, if you like
" Boutique" winery, thrives on this island, and the essence and faith on quality therefore thrives. Its therefore great Whirly country where the majority of vineyards fit into the Whirly wine philosophy of small is beautiful, small is good.
Launceston has Cornish heritage quite clearly: the Tamar crosses the main road down to Cornwall just west of Plymouth and like the Cornish river, this river is wide and full of stature and very important to the agricultural make up of the land in this part of Tasmania. The climate also changes due to the river here, it's significantly warmer on the west side of the Tamar. When I arrived there was damp, wet fog in the middle of summer around Dalrymple vineyard and the windy, woody roads and yet across the river the sun was out. The varietals grown on each side of the river therefore vary greatly.
One of my favourite wines I tasted on Tasmania was from Dalrymple where they made some sublime cool climate Chardonnay. The vines here were first planted in 1987 and I tasted the 2002 Chardonnay when I was there, with oak, which was a rich wine of yellow peaches yet with a lovely grapefruit finish. They made very little of this wine since this area of the island is very open to the elements and it gets pretty windy here: in December 2001 the wind thrashed through the vineyard and destroyed 70% of the crop.
I drove across to the other side of the river and yes the temperature did indeed rise by 5-10 degree's. These little micro climates in Australia are amazingly interesting. On the other side I found some lovely little garage wines, one called rather beautifully, "Humbug Reach", which literally was a garage wine when I was there. But the wines here were incredibly impressive: I tasted their 2005 Riesling, very limey and zesty, their Velo'05 Riesling was softer and a little peachier in its makeup.
The road to Hobart and the Derwent valley
The drive from Launceston to Hobart takes 3 hours, that's the entire length of the island from north to south, less than the drive from Margaret River to Manjimup, or from London to Liverpool on a good journey, to paint a picture of a more accessible image of distance, that is if you've been to Liverpool. If you have not then please do go. I have a lovely client there on Hope street called " 60 Hope street", cut in between the two landmark cathedrals that differ so much in age and architecture and the city has really come of age in the last decade. Anyway, back to Tasmania. The drive takes you down through rough, rugged sheep country, pretty dry and barren and about half way across, is Ross, famous for being the centre of the wool industry, a former garrison town that looked after over 12,000 female convicts in the 1850's, and being almost half way between the two main cities of the Apple Island (called because it used to be a major apple producer in the world) was also an important coaching station in days gone by. It's a wonderfully preserved little town that literally transports you back 150 years.
Stefano Lubiana, Granton, Hobart
Located high above the Derwent river, a river that flows 187 km from its source 1545 metres up at Lake St Clair in the national park down to New Norfolk, a point 34 kilometres beyond Hobart, the vineyards of Stefano Lubiana lie, planted over 20 years ago. I arrived here on January 31st 2006 after a 3 hour journey from Launceston via a lovely little vineyard called Jinglers Creek, to taste, what I think at the time was, the most exciting and delightfully full in quality and stature range of wines that I have had the pleasure of whirling. It was like that moment in Quince, San Francisco when I first drank a great Oregon Pinot with a lovely large, very large Burgundy wine glass: I GOT VERY, VERY EXCITED. Every wine I tasted was simply amazing:
( extracts from my Papyrus, globetrotter journal written that day, that Simon Hatcher and staff brought me when I was leaving Bibendum Restaurant in October 1999 to go travelling to Australia and India. It has a heading on the leather bound cover which reads " Further adventures of Simon Charles Newson" which is rather endearing)
NV Brut: Tarte Tatin and toasty..a winner…yes!!!
Pinot Grigio 2005: Gooseberry intensity, and melon. 5 ticks
Riesling 2005: Provence Lavender, subtle grapefruit and citrus fruit. 5 ticks
Primavera Chardonnay 2004: delicious, honeydew melon, wonderful soft quality. 5 ticks
Chardonnay 2002: sold out. Too soft and oaked for me. 3 ticks
Chardonnay 2003 reserve: yes! 5 ticks
Pinot Noir Primavera 2005: means Spring, first grapes picked and released in Spring following. Sold out
Pinot Noir 2005: the best season in Tasmania, wonderful quality. ( I wasn't too sure about this wine when I tasted it since it was less than a year in bottle but I am sure it will go on to be a great wine)
Pinot Noir estate 2004: fantastic depth, low alcohol
Merlot 2004: blackberry, cassis, right bank quality!! 5 ticks
Gravelly, limey soil. Micro appellations. 90% estate grown grapes
Extract from JAMES HALLIDAY Australian Wine Companion 2008
After searching Australia, fifth-generation winemaker Steve Lubiana selected Tasmania for his cool-climate vineyard back in the early 1990s. His family's winemaking origins stem back to Trieste in Northern Italy. Steve discovered a parcel of land overlooking the spectacular tidal estuary of the Derwent River at Granton, a mere 20 kilometres north of Hobart. The vineyard was first planted with the Burgundy varieties of Chardonnay and Pinot Noir during the spring of 1991. From those humble beginnings, it has expanded to 18 hectares of closely spaced vines, which now also comprise of Merlot, Sauvignon Blanc, Pinot Grigio, Riesling and Nebbiolo.
Despite its growth, Stefano Lubiana Wines remains a family-owned and operated business, passionately focused on producing small quantities of hand crafted, cool climate, Tasmanian wines. Although Stefano Lubiana Wines produces Pinot Grigio, Pinot Noir, Riesling, Sauvignon Blanc, Chardonnay and Merlot, it is Steve's sparkling for which the label is perhaps best known.
Stefano Lubiana's sparkling wines have claimed both national and international praise. He produces three styles- a perfectly handled and balanced Non Vintage (NV) style and a more complex Vintage Brut which spends longer time on lees. Steve has also just released 'Prestige:' a 1995 vintage with more than a decade on lees. Prestige is a refined style with aromatic and textural complexity. Power, class and freshness combine on a perfectly sublime palate with purity and balance. All three wines have been written up in James Halliday's 2008 Australian Wine Companion- the NV scoring 92 points, the 1999 Vintage Brut 94 points and the Prestige features in Halliday's 'Best of the Best by Variety' with 95 points.
Steve Lubiana is also well known for pushing the boundaries of winemaking techniques in Tasmania and is always exploring innovative methods to extract maximum aroma, flavour and palate dimensions in his wines. He regularly experiments with yeasts (wild and/or inoculated) and uses whole bunch fermentation where appropriate.
His business boasts a modern, state-of-the-art winery facility, capable of processing up to 300 tons during vintage. The winery features a temperature-controlled barrel hall to prevent temperature fluctuations through varied season conditions. It also permits regulation of temperatures during fermentation thus allowing better management of the process and advancement in overall quality. Steve also plays an active role in the Tasmanian wine industry as a Board Director of Wine Industry Tasmania and Chairman of the WIT marketing committee.
NV Brut
" From the Apple Isle comes this delicious traditional Champenoise with a light gold colour and a fine bead. Its bouquet has aromas of cream, nuts, honey and toast- its finish is dry and clean. It also has a vigorous mousse, which is wine speak for lots of bubbles."
Naren Young, Jet Star In flight magazine, April-May 2006
For accolades on NV refer to: www.slw.com.au/slw/winereviewSparkling.htm
For product info/tasting notes on NV refer to: www.slw.com.au/slw/documents/SLWNVBrut.pdf
Mr Whirly says
"Possibly the best Southern hemisphere sparkling in the UK? Delicate, small bubbles give this wine away as something special. The wine oozes class with dried mango, pineapple, apricots and a nutty and delicately creamy finish. I am not sure how old this wine is but it's probably about 5 -6 years old by now. This is a wine to be enjoyed with food."
2005 Pinot Noir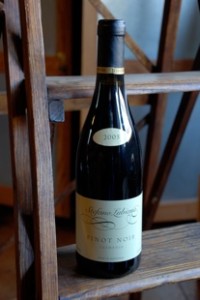 " Some time ago I reviewed Stefano Lubiana's Primavera Pinot Noir. As the name suggests a fresh and youthful expression of the variety. This is a more sophisticated drop, showing the depth of a superior vintage with ripe varietal definition, layered soft tannin structure and complexity. It's a wine that intrigues and holds your interest from first sip until last and ought to develop with 5-6 years bottle age."
Chris Shanahan, The Sunday Canberra Times, 9th September 2006
" Tasmania is still finding its feet as a winemaking state but Stefano Lubiana is already well established. The 2005 Pinot is full of velvety soft tannins and forest berry fruits. There's more than a little Gamey complexity and it continued to improve, a sign of its quality and cellaring potential. One of the best Aussie Pinot's I've tried……"
Fergus McGhie, The Canberra Times, 14th March 2007
Mr Whirly says
"This wine is possibly as balanced a wine as one could hope to taste. You can almost feel it perfectly balancing itself on each side of your mouth. Earthy berry fruit with a hint of dark chocolate. Tasmanian Pinot at its best made by this extraordinary winemaker "