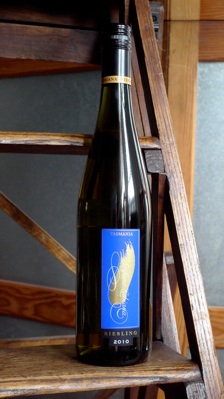 Mr Whirly says
" A beautiful wine, as always clean and fresh and wonderfully well made. It needs more time in the bottle I think so will look to sell this wine in 2013 when its expressing itself better."
Alc vol: 12.0%
Winemaker's tasting notes, Stefano Lubiana, March 2010
" People often ask us, "What brought you to Tasmania, Steve and Monique?"
"Couldn't you have stayed in South Australia and made your wines?"
Well, maybe we could. The fact is that when you're on a long journey in search of perfection you just can't afford to get side-tracked or make any sort of compromises along the way.
Finding the right place to produce super premium wine grapes isn't just a matter of relying on measures of degree growing days to get you over the line. Cool climate viticulture is about higher latitude, not higher altitude. You've got to have seasonality in your climate. We experience a genuine spring, summer, autumn and winter every year in southern Tasmania. Seasons are important triggers that determine what takes place in a vine as it shoots and develops throughout the year.
We're always looking to ripen our wine grapes in autumn. But achieving 13 Baume or 23 Brix isn't what sends our pickers into the vineyard. Ultimately, we're aiming for good clear varietal aromas and flavours. And unlike many places on the mainland nowadays, we don't have to hang out for higher and higher grape sugars to create exactly the right kind of characters that we're looking for in our wines.
Our 2010 Riesling is a living example of the benefits of latitude over altitude. It has wonderful varietal aromas and flavours, and yet it weighs in with a neat 12.0% alcohol in the bottle – 12.0% and bone dry, that is.
In the glass, there is plenty of appealing lemony/citrus aroma to telegraph its identity. Delve a little further into the wine and you soon find the spring fragrances of apple blossom with subtle hints of talcum powder. And the palate? That's as fresh and inviting as you'd expect from a young, cool climate riesling. Think lemon, lime, and grapefruit. Just give it a little time in the glass if you pour it straight from the fridge. This is a wine with latitude. Its brisk natural acidity is like an early morning walk in Tasmania – crisp and bracing at first, and then sheer delight.
Lock the wine in the cellar for a decade if you like your rieslings aged and toasty. Savour it now with some fresh natural oysters, or a couple of pan-fried flathead and a few chips. Bewdiful!."
December 2010.
Press articles
2010 Stefano Lubiana Riesling
"A similar pale gold colour as its Derwent Estate neighbour, but more intense lime essence on the nose and a fuller, more textured and complex palate with some mineral and herbal savouriness underpinning the fruit and running through to a firm, fresh, clean finish.
With oysters at their best and scallops in season, now is the time to crack one of these dry Rieslings."
Graeme Phillips
The Sunday Tasmanian
August 7th 2011