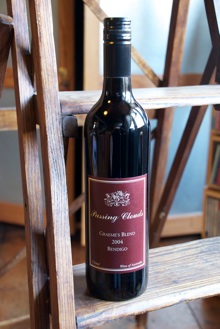 I visited this vineyard in 2000 and also a few years ago with Alan Cooper, as touched upon already on the Cobaw Ridge page. When I arrived here, one afternoon in February 2006 the Shiraz vines were literally hanging in the heat. They were so flacid and past help that to me there was no chance they would survive the remaining summer months. But as Graeme Leith, the wonderful, crystal eyed winemaker tells me, Shiraz vines love heat and no water. These vines are un-irrigated, hence the name "Passing Clouds", which promotes the fact that the vineyard simply relies on the passing clouds for its water, and they love the lack of water: their roots  delve down deep into the soil and ensure that if there is any moisture down there the vine will somehow grab it.
These people, like Alan Cooper further south, know how to make wine. They are also fabulous people since they are wine lovers, full of passion, organic and wholesome, setting up their vineyards with their own hands, sweat and toil and blood three decades ago and now seeing their hard work pay dividends.. They did it themselves, they lived their dream and for that reason alone, and there are many others too, I admire them wholeheartedly.
Passing Clouds, Bendigo
This is red wine country and in particular Shiraz which accounts for 65% of the red wine crush total.
Winemaker Graeme Leith, has a superb reputation in Victoria for producing wonderful wines. They started planting their vines in 1974 at Kingover, 60 kms northwest of Bendigo. Sheltered by the hills of Ironbark Forest, the valley offers an ideal growing climate for premium red wine. Low rainfall and no irrigation combined with well-drained deep soil, produce small intensely flavoured berries with a richly coloured juice. Passing Clouds is a small, hands on operation using traditional winemaking techniques.
Mr Whirly says:
Graeme's Blend 2004
This is Graeme Leith's variation on one of the first and therefore classic blends of two grapes that Australian winemakers like to dabble in: Shiraz predominates and Cabernet follows very quickly behind. I introduced this wine with the 2002 vintage a few years ago in 2006 and it went down a storm. everyone loving that honest, up front taste of fruit that was mature and not overpowering in anyway but voluptuous and rounded in the mouth with a velvet finish in the mouth. Lovely Autumn berry fruits, no tannins, perfectly rounded, this wine epitomises what a Cabernet Shiraz Blend should taste like from Australia. Now almost five years in the bottle this wine is drinking with perfection and after the long wait after the 2002 Vintage sold out a few years ago I expect this wine to also sell though pretty quickly.
" Low yielding, 30 year old dry land vines produce fruit of great intensity. Hand pruned, hand picked and fermented in open vats before maturing in new and one year old oak barrels for 12 months to maximise flavour and complexity."
Graeme Leith, winemaker
SOLD OUT
New vintage arrives 2014
Alc: 14.0 %  vol