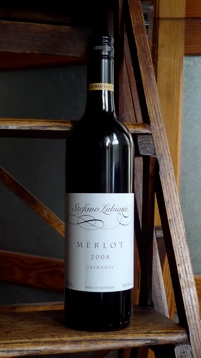 Mr Whirly says:
" I tasted this wine just after its arrival on the 23rd October 2011, together with old friend Bob Parkinson ( another ex-Bibendum chef) at his lovely restaurant " Made by Bob" in Cirencester. We agreed it was quite sublime. Sometimes Merlots are a little unready, harsh and too often drunk far too young. This is so ready to go now. Damson and black cherry with a hint of a No5 Cohiba. Wonderfully balanced and so approachable for its age. So yes this wine is ready to drink now and will also be great in 8 years time."
Alc Vol: 14%
Winemakers tasting notes, Stefano Lubiana, March 2010
" My dad Mario can't understand why some winemakers and consumers like to single out certain varieties and wine styles as being worthy of special attention and popular acclaim. It's as if they would like them to be put up on pedestals and exhibited as works of art.
Our family believes the art in winemaking is all about making a product that delivers food-friendly wines with satisfying aromas and flavours.
I love the challenge that growing and making good Merlot provides in a cool maritime climate like Tasmania's. The variety has a huge potential here. With time, we should be able to create wines that can be clearly identified with the dry, savoury, ripe tannin styles of northern Europe.
The key to success is to produce fruit in the vineyard that shows a fine balance between the briary berry sweetness of the New World and the drier, more aromatic crushed leaf characters of the Old World.
Vintage 2008 in Tasmania was characterised by big yields in almost all of the State's wine growing regions. At Granton, we enjoyed an unusually low natural fruit set in our Merlot. The vines did not require the heavy crop thinning that became standard practice elsewhere during the warm summer of 2008.
I love the way the variety responds to the grey gravelly soils of our lower vineyard blocks overlooking the Derwent River. When I see our Merlot there with its full green canopy, I'm reminded of many of the sites I saw along Bordeaux's Gironde in 1986.
The 2008 Merlot looks set to follow in the footsteps of the very successful 2001 and 2003 vintages. It should prove to be one of the best we have produced from our small, hand-tended vineyard. There may not be a 2009.
The wine opens with a deep crimson colour and offers up aromas of dark berries, crushed leaf, and cedar/cigarbox. I can see plenty of new French oak in this wine, but it has been built for the long haul. The tannins are firm and grainy, something which characterises many of the red wines of the hot and dry 2008 vintage. The finish here is equally dry, with undertones of Swiss brown mushrooms.
Our 2008 Stefano Lubiana Merlot is an attractive food wine with a rich, savoury fruit intensity that reflects the season's low yield. Share it at the table with family, friends, and rare portions of Tasmanian grain-fed beef. More complex cedary notes will come to the fore in another 5 years."