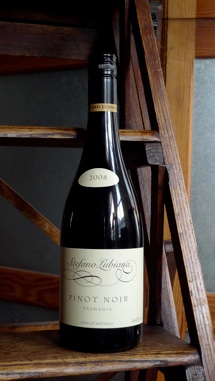 Stefano Lubiana has grown a reputation for making some of the best Pinot Noir in the Southern Hemisphere and this wine continues that trend.
Mr Whirly says:
" Clean, perfectly balanced and so young still. This wine has so long to go still which is sign of superb quality grapes and hard work in the vineyard. Silky smooth to drink. Will rival a great deal of Burgundies from top producers at 2-3 times the price."
Alc vol: 14%
Here are some reviews of the wine from various press articles in Australian publications over the last year since its release in October 2010
The Stonier International Pinot Noir Tasting,
6 September 2010,
National Gallery of Victoria, Melbourne
2008 Stefano Lubiana Pinot Noir
"This wine was singled out for particular praise by some of the panellists and table captains. Nick Bulleid MW linked it in style to the Felton Road, as did I, but with a qualification on my part: it had the weight of the Felton Road, but more light and shade. My notes were "strong colour; complex black fruits and warm spices; rich and textured; firm finish". Rating: 96 points
James Halliday, October 30, 2010
Winemakers tasting notes, Stefano Lubiana, March 2010
Every winemaker dreams of creating a truly great pinot noir.
The reality is that Burgundy's noble red grape is a tightrope walker. It needs cool, sunlit slopes and well-drained soils to be encouraged onto the wire. The wine's journey across the palate is a fine balancing act that can come to a crashing end when fruit, tannin and acidity are not lithe and perfectly proportioned.
I love the supple mouthfeel and fine, silky, abundant tannins of good Burgundy.
In recent years, all my pinot noir growing and winemaking efforts have been directed towards achieving that perfect balance between natural fruit sweetness and fine, ripe tannin.
This release of estate-grown, single vineyard wine provides a footprint of my journey along the long road to pinot noir perfection.
Vintage 2008 came at the end of an excellent, almost balmy ripening period in southern Tasmania. Our vineyard's mean, dry soils and brilliant sunny aspect provided us with some great raw materials for pinot noir winemaking. The cooling effects of the river and our mild night-time temperatures helped lay the foundations for plenty of life-giving natural acidity in our finished wines.
I'm pleased with what I find in the glass. The warmth of the vintage is clearly reflected in the richness of its deep colour. The nose holds the promise of ripe dark berry fruit with subtle nuances that hint of flower gardens, dark Belgian chocolate, and savoury bouquet garni.
The palate does not disappoint. It's rich and tannic in structure, with roughly 35 percent new French oak adding some firm restraint to the wine's fruit-driven opulence. A component derived from 15 percent whole bunch fermentation adds depth. With ageing, the wine's high levels of natural fruit tannin will evolve to add a gentle layer of sweet, round complexity to the flavour profile.
Our 2008 Estate Pinot Noir is ideally suited to beef, Tasmanian venison, and the welcome company of family and friends around a table. It should enter its best drinking period after 5-8 years in a cool cellar.