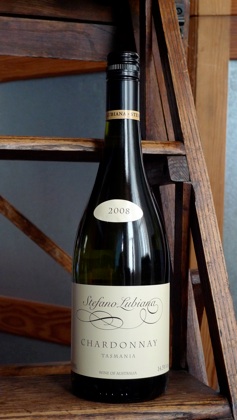 Mr Whirly says:
" I am totally excited by this new addition since I have needed some top end Chardonnay from down under for a while now. This promises to be right up there with some of the best in the world. This wine is still very restrained but its beginning to express itself now that its been in the UK for eight months. Expect it to go on and on."
Alc vol: 14.5%
Winemakers Tasting notes, Stefano Lubiana, March 2010
" In the late 1980s, Monique and I travelled almost 10,000km in search of the ideal place to grow grapes and make wine. Western Australia, South Australia, southern Victoria, you name it and we considered its suitability for producing the best possible fruit from each of the classic wine varieties of northern Europe.
What brought us to Tasmania's Derwent Valley – and the north facing slopes of what has since become our bio-dynamically managed Granton Vineyard – was something we discovered that was right under our noses.
What struck us most were the aromas of the herbs and flowers we found growing across this island State. When it came time for us to stop and feast on many of the fruits and vegetables we encountered in these cool southern latitudes, we were once again amazed. We found an intensity and a vibrancy of flavour we'd never experienced before.
Twenty years later, people continue to make the same observations about the wines we have produced from this property.
The latest release of our estate-grown Chardonnay clearly demonstrates that this is not just any ordinary Australian or New World Chardonnay.
Yes, it has been barrel-fermented and left on its lees to mature in oak like many of its industry peers, but there is a vibrancy and an intensity in its fruit characters that still continue to shine through the wine.
Like the red wines produced from 2008, this Estate Chardonnay also provides ample proof that the wine gods were really smiling down upon us during that warm, dry vintage.
In the glass, it is a pale gold colour, with plenty of green flashes that indicate that this is still a wine in its youth. Now 15 months in the bottle, it is similarly alive and vibrant in aroma, with the citrus notes that are typical for our style of Tasmanian Chardonnay already coming to the fore. And the palate? That is building beautifully, but already brimming with flavour, thanks to our commitment to artisan winemaking techniques such as lees-stirring. It's what we love to see in the glass – a just reward for patient care and effort.
Enjoy this wine now with a range of fine Tasmanian foods. It will look even better in another 2-3 years. Salute!"
Press articles:
James Halliday, 2012 Australian wine Companion
"Bred to stay, still very youthful and composed, grapefruit, apple and stone fruit held
in a tight embrace of acidity;oak has been relegated to the sidelines. Screw cap sealed."
14% alc. Rating 95. To 2022."
"A bigger, more powerful, complex and less fruit-driven style than the two previous wines with ripe stone fruit and fig flavours beautifully meshed with richer honey, nuts and toasty caramel notes, the palate deep, elegantly balanced and wonderfully together with good fresh acidity promising even better things down the track."
Graeme Phillips
The Sunday Tasmanian
March 20th 2011