Spain: Ribeiro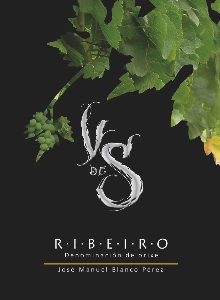 In August 2013 I imported my first mainland Spainish wine! Yipee! At last!
I have some lovely wines from Mallorca already, if you would like to see these please click on the link below;
Spain has been at the forefront of production from the smaller vineyard of some outrageously good wines in the last few years so it was about time Mr Whirly got involved!
So here we have it, my first wine and from the very north-west of the country, the very fashionable region of Ribeiro.
I have an admission here, I have yet to visit the vineyard, being that I simply have not had time yet, but the Owners of " Val de Souto" invited me to get take a look at their wine and once I had done this I couldn't refuse the invitation. I shall be on way out there in the Autumn.
This wine is made by Jose manuel Blanco Perez and its a combination of Triexadura; Godello and Loneira. Once tasted I simply had to have it since it was such an easy wine to drink: lovely fruit, not too overpowering though and a relly intense yet suble mounthfeel.
Athila Roos, Head sommelier at the arts clud, Dover street, London W1 described the wine on his list as:
"Intense and complex aromas of wild herbs and citrus fruit leading to a fresh palate that is structured and aromatic"
"Mr whirly says":
" From a family run business this is the only wine they make! A blend of Treixadura, Godello and  Loureira, herbaceous and aromatic.  Coriander, parsley, freshly cut mint fill the nose and the palate is filled with clean minerality and freshness,  beautifully balanced.and clean. Stonking value for the quality of the wine."

Alc vol" 12.5%
Price: £7.95