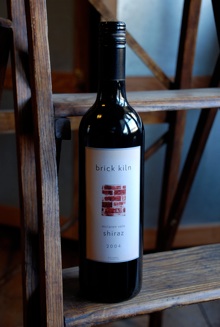 Brick Kiln represents my first venture into McLaren Vale, a wine area just south of Adelaide and I am really excited since I have at last found a straight Shiraz to really yell about! After my experience here in February 2000 when I picked grapes during vintage at a dollar a bucket for two days (that's all I could handle, it was a real scrum) I had a slightly tarnished view that this wine region did not care for its grapes and land very much. This wide valley that is the vale is not far from the area that I have just written about, the Adelaide Hills, but the climate here could not be more different: they grow Shiraz, they grow a lot of Shiraz, therefore its hot here, as simple as that. It's also a lovely place to spend a few days wine tasting since they love their food down here, there is a strong Italian influence and many of the wineries have lovely restaurants too. Do check out the Salopian Inn if you are ever down here.
Malcolm and Alison McKinnon, Garry and Nancy Watson and Ian and Pene Davey rescued the site for this wonderful wine when in January 2001 they bought it since the Nine Gums Vineyard, just over the Brick Kiln Bridge, was in a state of disrepair and needed some serious TLC. Eight years on the vineyard produces soft, ripe, luscious fruit and this 2004 Shiraz is now sold out in Australia, which is not surprising. It is Shiraz how it should be and I have been searching for such a wine for well over 2 years and over the last 3 years its created quite an impression.
2004 Shiraz
The climate in 2004 was cold from January through to March then it warmed up. There was little rain. Fruit was picked over a two week period from the end of March onwards at beaume readings of 14.8 and 15. The wine was matured in Oak (20% French, 80% American) and bottled on the 10th May 2005.
" The 2004 Brick Kiln Shiraz is already showing signs of being an exceptional wine, with a high degree of elegance and balance, a peppery finish to the palate and the full body one has come to expect from Brick kiln Shiraz"
Malcolm Mckinnon, co-owner
" A voluptuous, rich array of dark chocolate and bright red plum and blackberry fruit; fruit driven, minimal oak, carries 15% alcohol easily"
James Halliday
New 2011 vintage here in early 2014
Alcohol: 15.0%
Mr Whirly says
" Brick Kiln has indeed turned out to be the Shiraz I desired as my first example of this varietal ( on its own that is), that has in many ways put Australia on the map in terms of quality mid to top end price range wines. It is softer than some Shiraz's further north and not so sweet and sometimes "overheated". It has a sublime richness with lingering perfumes of vanilla pods and rice pudding! Yet it is fresh and robust with delicate blackberry, cassis and redcurrant intermingled with cocoa, almond and five spice. The wine deserves a decanter as well as a deep, large glass and it also possesses a deep crust at its bottom, so please be careful when pouring the last few drops into your decanter."