Day 1, Thursday 11th May
I love coming to this island. Its people are very different from the mainland I find. Thats all I am going to say on this front. But the island is full of passion, history and wonderful architecture too. Oh and quite old temples. I am here on this trip to find wines at that crucial £10 mark that I talk of at the end of my last tour to Croatia and Slovenia in March. So its a big trip. Will I succeed? Buono Fortuna amico mio.
First stop is Alcamo and an old friend or two. Not wines for the £10 sticker but wines that are natural and a little more expansive shall we say. Bosco Falconeria are an Organic vineyard and they now make natural wines. Yeah, here we go again, on the  " Natural wine world trail!' They are located high above Alcamo in the rolling hills and to get there the drive is along a dirt track and some crazy corners. But when you get to Bosco its heavenly and tranquil, a massive contrast to the rubbish and abuse of the environment that one experiences on the S113 to get here ( this is my one gripe about Sicily I am afraid, its worse than SW16 where I live). Natalia and her family live I feel a very special life that they have created. Sadly Mary her mother is in New York, her birthplace so I missed her ( she came here in 1969 met Tony fell in love and stayed, just like that!)
We taste 2015 wines. All are almost sold out and the 2016 are not ready to taste but they will be ready for Whirly to import in September this year. First we taste the Cattarato 2015 white label. I have imported this wine before but back in 2012. Its evolved a great deal as a wine since then though. totally natural yeasts; does not stay on skin contact at all, a very little sulphite in the beginning. Natalia explains to me,
" I d0n't like the definition of natural so much.I don't think its the best definition. I prefer a wine that respects the grape and the terroir. What we do with the wine depends on the year." She goes on to explain that they use bentonite, a form of clay to clean the wines, but again not every year. The wine has great depth and character, a great deal richer than all other Cattarato's I have tasted. Next wine is the " Peregrino" ( the yellow label below). Three days maceration on the skin. This is a red wine version of the Cattarato, but picked at the same time as the first Cattarato. ( 13% alc vol) Lastly Nero D'Avola (15% alc vol) very expressive, much more so than I can remember in the past, this is a very "bright and happy wine," I remarked at the time. Nine months in tank, " It's better for the wine' says Natalia, " the earlier you bottle it, it will need sulphites since its not stable." I say goodbye to Natalia and Tony and drive back down the gravel track with a happy smile on my face.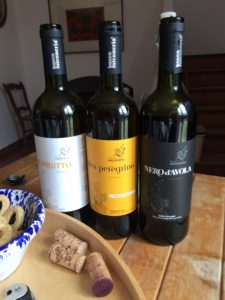 Next stop, Castelvetrano, just north east of Marsala. I know exactly where to meet Gaetano and Sebastiano and as I walk into the bar opposite McDonalds just off the the A29. They spot me and are very surprised to see me. I could not call on the way and had emailed  that morning to say could we meet earlier at 1.30pm. Gaetano could not be more different from Natalia and Tony, he is as far away from the " Natural" set up in Alcamo as one could be removed: he's a local farmer, hard working and eager to sell to me and he owns 42 hectares of vineyard land as well as olive groves, so a substantial area of land. We race around in Geatano's beaten up Fiat Punto and he shows me his vineyards, on a road I have travelled many times on the road to  Porto Palo, a windy and also beaten up road, that passes across a long valley of flat farmland with a bridge of enormous proportions taking vehicles east to Agrigento and west to Marsala. Under this bridge is where I find myself in the vineyards of " Donna de Coppa". We then visit his olive groves and where he packages the olives and finally his bottling and winemaking plant. Its a middle sized set up, larger than most wineries I work with but in tasting the 2016 wines out a tank I am convinced they are wines that I can sell to my customers at around the £10 mark and they will be enjoyed. They are very good wines indeed. This is what Sicily can offer, some really fab wine at fab prices. We taste " Bianco Siciliana" 2016, a blended wine of Trebbiano and Cattarato and probably some other white local grapes out of the tank, then a Vermentino 2016 out of tank, a Syrah 2016 and finally a Nero D'Avola-Syrah 2016 blend. All are bright and expressive and well made. I manage to finally get back to me car ( Gaetano wants me to stay for dinner)  and say farewell with another big smile on my face. I have achieved what I came here to do. Four hours later at 8pm I arrive in Siracusa on the east coast of Sicily, just in time for dinner. If you have never been to Siracusa go. Ortigia is the most wonderful place and as I discover over the next 2 days the birthplace of civilisation as we know it.
Day 2, Friday 12th May
I am here to meet Simona at Cantine Gulino. It turns out that the vines are just at the back of the hotel I am staying at. I meet Simona and Sabastiano Gulino, the family owner who explains to me, after a walk around the Muscato Bianco and Nero D'avola vineyards ( 7 hectares) both famous for being varietals with their origins in this area. This is the home of both grapes. The vineyard has been in the ownership of the family since about 1600 but in the 20th century with the onset of the industrial revolution, the discovery of the the natural springs  that meant vegetables were planted and vine ripped out, the vineyard site fell away and very much into disrepair. In 1995 they started to restore the buildings and its now the way it is now. They show me, high up above the floor the original vats where they would press the wines with their feet. The picture below of the arch shows the pipe in the ceiling where the juice would run free.
The first wine we taste is called " Fania", 60% Fiano and 40% Inzolia, from grapes in " Contrada Burgio" near to Noto. Inzolia is a native grape to this land, the Fiano's homes is Napoli. Inzolia is " the king of grapes". Simona explains," Its very difficult not to produce a wine here without structure. The structure here is bigger." She means that its the perfect place to grow Fiano and other grapes, the sun shines and it rains very little. The soil is limestone and very fertile. Its all about sun, weather, limestone soil. "The land here was part of the African plate " Simona goes on. The soil is full of marine sediments full of calcium and this mountain range  is called the " Monte Iblei". There are three other mountain ranges in Sicily: Madonie near Palermo, Pelottaani near Messina and Etna near Catania. All four form Sicily. Back to the wine. They make 30,000 bottles of Fania, its very dry with great acidity, very citrusy. " Wines of the African plate are full of acidity and therefore keep fresh and last for at least 3 years in the bottle". Good news. the grapes are de-stemmed. no skin contact, pressed, 24 hours maceration then seperate tanks for 6 months. Next wine is Chardonnay 100%, the only wine I don't like. Made for a commercial export market and not indigenous.
The third wine we taste is the Albanello 2016 a grape typical of the Siracusa wine region and SE Sicily. Cantine Gulino are the only producer of pure Albanelle in Syracusa, the wine is very different with 24 hours on their skins, very quick and notes are both sweet and savoury with a little melon. I like it. Next " Fanus" a red wine, blend of Syrah and Nero D'Avola ( 60/40). As I taste this the swifts are flying in and out of the barn where the wines are stored. Syrah loves Sicily and Sicily loves Syrah. A grape that Alessio Planeta used to put Sicily on the wine map almost 20 years ago flourishes in this hot, dry dusty land. This wine is macerated for 2 days on the skins, then 6 months in tank before being blended. No oak. Crimson red in colour and light on the rim, 30,000 bottles made, " simple yet delicious". Then a wine I tasted in London in January this year, and the reason why I am here, their 2014 Nero D'Avola, 12 months on oak, dried on the vine then a small percentage under the sun. This is a big juicy Nero D'Avola, a really exciting wine that needs time and will age well with plums, rich blackberries and a little sweet spice. 6,000 bottles made, delicious. The last two wines we taste are the Moscato bianco wines from the vines on the property that we walked a few hours earlier ( see picture below). The Don Nuzzo is made by drying some of the grapes under the sun. Its a fresh wine, full of figs and dried apricots. This is indeed a special wine in Italy and Sicily as Simona explains to me. The Jaraya is lighter in colour,as you can see from the picture below. The grapes are totally dried under the sun as well as on the vine, its a great deal sweeter than the first wine and also richer and full of apricots. Supremo Quality.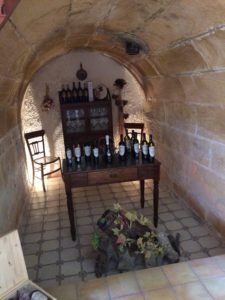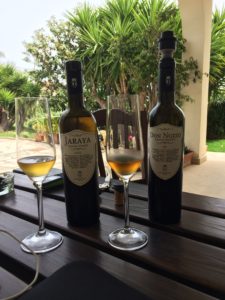 In the afternoon I decide to take a wee drive over to Noto to meet Theresa who I met in London in January when she was looking after the wines from Cantine Gulino and who now runs a new Enoteca called "Enoteca della strada de Vino del val Di Noto". The business in only a few weeks old but in a great site in a lovely square off the main street running through this gloriously beautiful town. Its not as old as Siracusa, so does not have the depth of time in its architecture, nevertheless the buildings are stunning and its so very well kept indeed. Below is a picture of one of the many churches in the town.
I taste some wines from local producers picture belkow and the Organic wines from Giasira and Riofarra stand out. What I am finding is that each grape, whether its Grillo, Cattarato, Fiano, Albanello or Nero D'Avola all show themselves in a very different yet exciting way depending on the where they are grown and due to the various soils in Sicily that are part of the four different mountain regions discussed earlier. This means we have a very exiting prospect for importing wines from Sicily in the future and one could have say 4-5 Cattarato's that all show themselves to be very different from each other.
Day 3 Saturday 13th May
A drive back to Palermo then the most splendid Passajata for 4 hours around the town, ending in dinner at my favourite restaurant, Piccolo Napoli. Street food ( Palermo possibly has the best street food in Italy)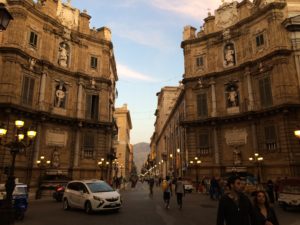 old town Palermo, The Opera house , what a joy this place is.