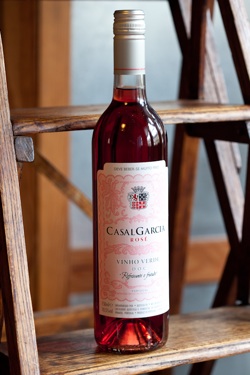 Casal Garcia Rose NV
New stock of this delightfully fresh rose has just arrived in July 2013
Mr Whirly says:
"I tasted this wine in San Francisco in April 2010 and fell in love with it. It's Strawberry cheese cake in a glass!  Although a little strawberry sweetness on the middle palate it finishes dry and steely which is a positive attribute. This wine bubbles with intensity and flavour and with a freshness that is simply so wonderful for the summer. So at 10% alcohol I truly think it's the perfect rose for all year round. Pomegranate in appearance this wine is made from three grapes: Vinhao, Azal Tinto and Borracal."
Alcohol: 10.5%
oppo Vinho Verde, Northern Portugal
In April 2010 I spent quite a long time in North America, not by plan I might add since I was caught up in the Volcanic ash cloud over Iceland. I spent four lovely days with friends at the top of Beach Wood canyon in Los Angeles in an amazing LA style 1970's castle, where the humming birds were buzzing around the beautiful green and unscarred valley that looked across to downtown Los Angeles. I realised that this might be an opportunity to capture, rather than concern myself with the fact that I was going to be stuck here in California for a week or so. I managed to get an onward flight to San Francisco, spent the next ten days there amongst the vibrant crowd of friends that I am so lucky to know in this wonderful city and discovered a wine at the same time from a lovely independent grocery store called " Bi-rite" in the Mission that I simply fell in love with…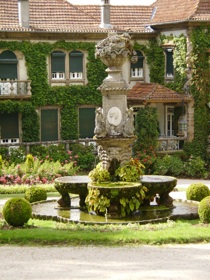 So in July 2010 I boarded a flight to Porto and headed East along the Douro river to Parades to Aveleda who produce the Casal Garcia Vinho Verde wines. I spent a day with Manuel at this fifth generation family business discovering the beauty of the old house and courtyard and the beautiful garden full of follies and the most wonderful tropical plants and trees. Manuel explained to me about the old system of vine trellis, called Ramada (rather like the vine system in Italy called Tendone) which involved growing the vines at quite a high level so that you could not only walk underneath the vines but there was space beneath to grow vegetables to feed you and your family. I found this most resourceful given that in years past there must have been a lot of people who were living on the poverty line out here in the hills of the Pyrenee's but quite clearly it meant that the grapes didn't receive the best attention from the energy of the soil.
From Parades I took the train along the Douro as far as Pinhao which was a lovely little Port House village about 3 hours east. Still, today, Port is carried down the river on a barge, which in a world of change and modernity is an endearing quality of this traditional and very old wine region which dates back to 1756, the third oldest after Chianti and Tokay.
So this little story lays out my journey in discovering and now bringing to you this lovely rose from Portugal, my first entry into the European market.
I hope like me, you find the rose sparkly and bright and full of energy. I think the rose is quite unique and beautiful, it's like eating a strawberry pie with a smidgeon of double cream.