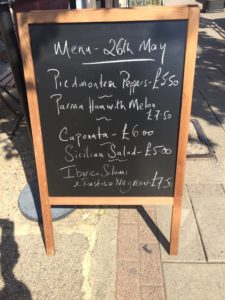 Following a recent trip to Sicily, written up below I was inspired by the street food in Palermo which is the best in Italy, or so they say! So from the 1st June we are serving lunch from Thursday through to Sunday and we will of course be open for Mr Whirly's Italian inspired farmhouse menu in the early evening too.
The Menu this week!
Piedmontese Peppers: £5.00
Sicilian Pepper stew: £6.00
Caponata: £6.00
Sicilian Salad: £5.00
Napoli Salami with Capers: £7.50
Pecorino Cheese with Truffles: £7.50
All the dishes are handmade by Mr Whirly and with some great Whirly wines by the glass that start from £2.00 for a 75 ml measure of Organic and Bio Viognier or Carignan from La Bouysse in Corbiere, the same wine you can fill up your 1 litre bottle for only £10.50, it really does go to show that Whirly wines is not in anyway an expensive place to eat and drink wines that have been carefully chosen for you from the smaller producer.
I look forward to welcoming you to the Whirly wine shop soon!