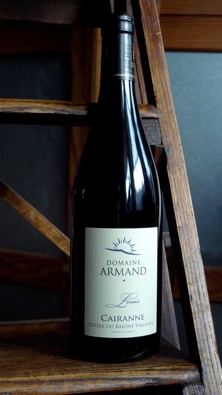 This wine is now sold out. New Vintage arrives March-April 2014.
It's a right old Cairanne! And this really is anything but. Not old in anyway and very fresh and exciting, this lesser known Cotes de Rhone Village is very much treading its own path into the new age of wine growing in France, where wines that sell at that optimum price point, £10-14, really are shining through. I tasted this wine with Audrey Armand on that sun blessed evening on the 27th July 2011 and thought it was exactly what I wanted in a top quality Rhone, that doesn't have the price tag of some of the better known appellations a little further south but most definitely has the quality. This wine is made from older vines, Grenache, Syrah and Mourvedre. If you can, decant and leave for an hour.
Mr Whirly says:
" A pure delight of joy. I bought this wine from the little village north of more recognised names in Southern Rhone because it provides great quality at a great price. This is a special cuvee and like all their wines, the grapes are picked with meticulous attention and care. Smooth and juicy with hints of tabacco and liquorice as well as a hint of black cherries and white pepper. Fantastic value for the quality of the wine."
Alc vol: 14.5%
Winemakers notes:
This is a Special cuvée – limited production wine. AOC Côtes du Rhône Villages, Cairanne , Cuvée LOUIS red 2009.
Terroir: hill side limestone. Old vine Grenache, 50%, 25% Syrah, 25% Mourvedre. Hand harvested and selective picking. De-stemming, long maceration, aged in oak barrels that are two years old for 6 months. This wine has a deep red purple colour, the nose is intense and complex, black pepper, mineral and after breathing we discover ripe aromas of cherry and coulis sauce with light toasted notes. In the mouth this wine has a well balanced structure, powerful with fruit flavours and elegant tannins with a long finish with some light vanilla showing through. Can be aged for up to 6 years and drinking beautifully now.