otoThe new Riberach " Synthese"  Blanc 2012 arrived November 2013.  The wine is made from Grenache Blanc, Carignan and Maccabeu and comes in at a very light 12% alc vol, which is unheard of in these parts. Riberach are now a fully recognised Biodynamic and Organic winery.
Just in case you were wondering, "Riberach" is the old name for the town before the Catalan's came to this part of France and "Belesta de frontier" is the name since it use to be the frontier with Spain.
I am blessed. I had driven from the foot of the Pyrenee's near the famous Monastery at St Martin near Vernet and had ringed on a local Rousillon map the top places to go to in terms of wine, having talked to the owner of a local wine shop the day before in Prades. It's the morning of the 18th August 2011 and my journey north back to "Blighty" begins in earnest today, since my ferry leaves Dieppe in 3 days. I arrive at Belesta, just south of Maury, where I was focusing my wine tasting on this day and in the middle of town is the most amazing old cooperative that has been totally transformed into a modern hotel, wine shop and winery. I enter the winery, meet Guilhem and end up staying for eight hours, tasting his wines and having lunch in the restaurant. He is a much travelled man: like myself he has spent time in Australia working in the vineyards, he more as a winemaker than as a picker and blender and presser! I love his attitude, very positive and we very simply had so much to talk about it was a delight to meet someone who you immediately connect with. I love his branding, the snail really works for me and his wines are benchmark wines that exude finesse.
We are starting with two wines from this vineyard, decided after a seven hour lunch and tasting. I also met the vineyard manager, Jean-Michel, whose family has owned the land with the vines for over 100 years.
This was a lovely tour, since he showed me some wonderful "Jean de Florette" irrigation systems as well as vines that had been planted by hand by his grandfather, with an iron rod, into Granite! I kid you not: quite incredible ( a picture to prove this is below.)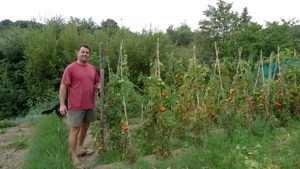 I also met a third partner, Patrick – the winemaker, who is the gentlemen cleaning the oak barrels in the picture below. Missing was Moritz – the Austrian sommelier- and Luc – the architect and co-owner of the restaurant-hotel resort).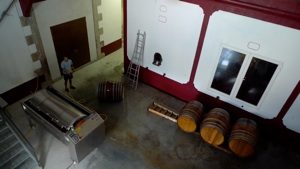 The three wines from Riberach are listed below