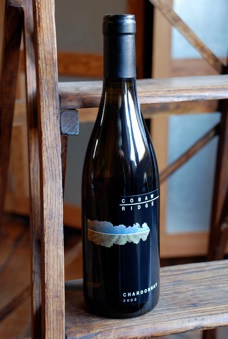 Cobaw Ridge, Macedon Ranges
– " Benchmark Chardonnay and Shiraz/ Viognier, rated 96/100 by James Halliday in his book, Best of the Best of Australia wine 2006. The 1999 vintage of these two wines were the launching pad for Whirly wine in 2003 when I first started importing wines from Australia, yes with just two wines!! These wines were amazing though. I still remember clients faces as they tasted it and their profile formed a smile of wonder and delight. So I have much to thank Alan and Nelly Cooper for in helping me launch Whirly wine and build it up from two wines to what it is today ( 66 at last count.)
Established and owned by Alan and Nelly Cooper in 1985 when the first vines were planted. The soil is Granitic and sandy on warmer northern slopes on the cusp of the great divide, 610 metres above sea level. Positioned in a natural amphitheatre backing onto the Cobaw State forest in the pristine heart of the Macedon Ranges. The wines produced are of an individual character and style. All wines are 100% Estate grown and bottled. Hand picked, pruned and tended. Wines made with passion and crafted with care.
I am indebted to Alan Cooper who gave me the opportunity to import his wines and launch " Whirly wine" in February 2004. Their 1999 Chardonnay and Shiraz is now finished but his 2003 vintage of Shiraz-Viognier is still available here in the UK. Halliday raved about these wines giving the 2003 Shiraz-Viognier 96/100 in the 2006 edition of his book, the same rating as Grange. Alan Cooper has been the pioneer of La Grein in Australia, which I hope to obtain small parcels of as well as some Pinot Noir for 2007.
For awards and terroir please see www.cobawridge.com.au
Shiraz Viognier 2003
" To say that Shiraz loves heat is an understatement. If this is global warming bring it on. Full, but not fat, rich, opulent and dark coloured, filled with spice and minerals. Plush ripe tannins and brooding power but still in balance with our great natural acidity. This is the eighth Shiraz-Viognier we have made and we keep thinking " we are onto something here!" After such a tough year for the vines to throw up a wine like this it must have something to do with wine age. Maybe it's the shout of the last teenage year. Blended as fruit with 4% Viognier then co-fermented."  Cellar 5-8 years.
Alan Cooper, winemaker and co-owner
Rated 96/100 James Halliday, " Australian wine companion 2006"
In the category, " Best of the best of Australia wine 2006"
" Best of the best by variety Shiraz"
" vivid purple-red; gloriously scented example: vibrant black cherry, raspberry and spice: lively and long; oak eaten by fruit"
Remington Norman, MW London, Author of Rhone renaissance and great domains of Burgundy
" Deep, firm, opaque youthful colour. Fine, complex, spicy nose-youthful but very promising. Ripe, tight, elegant flavours- long, complex and finely wrought. Little obvious new wood. Well balanced and not over extracted. Mouthwatering flavours and considerable potential. Lovely quality."
Alc 13.5% vol
Mr Whirly says:
"A wine that continues to amaze, bewilder and excite people. Quite simply, as quirky and Whirly a wine as one should hope to come across. Fresh blackberries, Damson, toffee fruit, tobacco, lemon piff, wild hedgerow fruit, wild black cherries with discreet essences of wild herbs and flowers and medicinal notes. These are a few comments I have gathered together about this wine. It's not for the unadventurous but it's definitely for the passionate wine lover. Cool climate Shiraz. Not Australian Shiraz in any way and certainly more European and in particular Cote Rotie in style, from that wonderful appellation in Northern Rhone. Thanks Alan!"