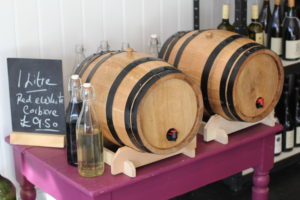 As I have just hinted at on the new Wine of the Month page, with the Autumn setting in and the change of season comes a host of new wines and an abundance of grapes are being picked across the Northern hemisphere, from Mendocino to Slovenia and Barolo to New York state! So its a fabulous time to tell you about new wines that Mr Whirly has found in the last six months and imported from Wagram and Niederosterreich in Austria, Limeray on the Loire, Limoux, Bandol and Corbiere in the South of France, Macon and Bordeaux! Phew, there's a lot of wine to look at in the shop here in SW17 so please do pop in soon!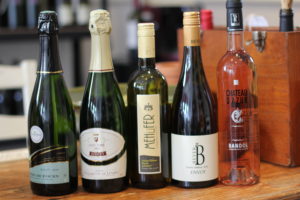 (from left the Sparkling wines from Robert in Limoux, 2015 Mehofer Gruner and "Late Harvest" Gruner from Bayer and the amazing Bandol Rose from Chateau D'Azur)
Do you know we are now serving our " Post Referendum " wines here in the shop. Come on in and have a look and taste the Corbiere wines from La Bouysse that I am serving out of the barrel. The wines are red and white, Carignan and Viognier based from a very small producer that I visited when I was down in Corbiere on the 27th June. They really are stand out wines and perfect for that relaxed mid week meal when you don't want to spend a fortune on wine but need something great for £7.00. And thats what its costs! ONLY £9.50 for a 1 litre bottle! The wines really are very well made, the Carignan energetic and full of summer berry fruits, really juicy and the Viognier wine is again exciting and savoury with some hints of green herb too. So I urge you to pop in soon and see how Whirly wines is revolutionising the choice of wines that you can find in Tooting and Balham.
These PR wines aside, its a problem where to start since there are so many wonders just in! Like a little boy in sweet shop I am indeed. I think we have to start with Limoux! What and where I hear you say! Limoux is a town and wine region just east of Corbiere, which is just south of Carcasonne. Limoux makes sensational and individual sparkling wines and yet no one know's about them which is a terrible shame. So its time to taste and get a feel for Limoux. I have imported two wines from Robert the " Blanquette de Limoux" Domaine de Fourn" Brut and the " Carte Ivoire" which is a little demi sec but both are quite delicious and a lovely intermediate wine between Procecco and Champagne at around £15 here in the shop.
Also from "Domaine La Bouysse " we have their savoury and slightly minty Viognier 2015, very fresh and easy to drink at £12.95 here in the shop and straight out of the tank. Their Carignan 2015, pictured below with the Viognier is juicy, energetic and full of summer fruits with a really clean nature and is priced at £13.35 in the shop.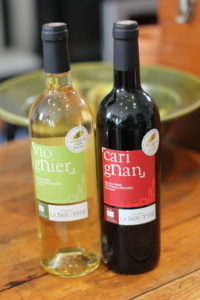 Also just arrived from Austria are new vintages of the ever exciting and fresh " Organic" wines of Stefan Mehofer in Wagram. His wines have been so well received in the last few years and their Gruner veltliner in particular, has a very passionate following around the UK now from my restaurant clients. Their Gruner 2015 sings fresh apple and pear and is also only 11.0% alc vol. Price: £12.75. Also in are new vintages of his smokey red Zweigelt and Cabernet 2013, top billing for a light juicy Autumnal red at £14.50. New vintages of his Riesling 2014 ( £15.25) and Roter Veltliner, fuller and richer than the Gruner, 2014 at £14.95. From Bayer in Niederosterriech I have their "Envoy" 2015 Gruner. I thought this wine was so clean and fresh when I tasted it and its in such contrast to the Gruner from Mehofer. Picked a month or so later, I imagine in late October 2015, you can really see the difference when the grape is " Late Harvested", with a little more sugar inside, this wine would match some spicy Thai or Vietnamese food perfectly. Rich ripe pear on the nose and palate with some ripe plum too, price is £16.95 here in SW17.
More to follow…the perfect rose, Chateau D'Azur 2015 " Le Jardin de Soleil" and why rose should be drunk not just in the summer months. October offerings too with some new Chenin and Malbec from Prevote in the Loire. Its not Vouvray I know, but I tell you what, in terms of mouthfeel these wines wrap you up and they are wonderful value compared to more famous Chenin neighbours like Vouvray and Savenniere.
Mr Whirly