Following " Brexit" I felt pretty numb so it was probably a positive idea to a have trip planned to Corbiere, Jurancon and Gascogne planned for this week; let the dust settle whilst I am away. However despite my awful use of the French language all I could hear on most radio stations on the drive from Toulouse to Pau yesterday were the words " Brexit" so clearly its made its mark here in Europe also.
Onto the wines, well with a little bit of Brexit too!  I am always on the outlook for great wines at very competitive prices but none more so than now and in the months and years ahead. With this in mind I have been planning a trip to Corbiere for a long time. Corbiere is in very poor part  of France but possibly one of the most undiscovered and beautiful in its very arid, rocky and barren way.
"Domaine La Bouysse" have been making Organic wines for three years but they have been making wine here for three generations. The abandoned and derelict Cooperative in the centre of the village of Saint Andre de Roquelongue is testamount to the past history and the development of the wines here in this region over time.  The Tramontane wind from the west thats swoops across the Atlantic was kicking up quite a storm as I approached the town sweeping over the escarpment of the same name.  La Bouysse is the name of the mountain, well escarpment, pictured below that protects the vines on the property and emphasises the ruggedness of the region. It really is hard country down here. I have been following this wine region for over ten years and after many visits to this unheralded wine area it was time to import some wines from here myself.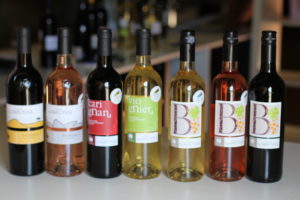 I tasted the following wines at the vineyard ( pictured above)
Domaine La Bouyysse "B" range: a range of wines that really do excite the palate yet that are are at an "entry level". Their white is made from Grenache Blanc, Viognier, Chardonnay and Muscat Petit Grains. Its a really different wine with some herb and savoury notes and  perfect for summer drinking. Their rose is made from Grenache, Syrah and Cinsault. Its dry with that lovely slightly Provencal Pink colour so would go down well in the UK with the rose market. The Bouysse " B" red consists of Merlot, Syrah and Carignan and is juicy and easy to drink.The Carignan wines are over 80 years old, planted by the grandparents of Delphine, who has been busy in the warehouse all morning as we taste the wines, so this certainly helps the makeup and smoothness of this wine.  So three great wines that would sell well this summer and beyond at sensible prices.
Also tasted, were the " Floreal" rose from AOC Corbiere, 50% Grenache and 50% Syrah, again with that lovely very light pink colour as well as the Carignan 2014, made from the 80 year old vines, that needed a little more time and some air so I must remember to re-taste again today since its in my little Fiat 500 ready to go again. Their wines are also made up of grapes from another appellation, Boutenac, which is about 10 miles north and this wine has to have at least 50% Syrah in its makeup.
( Ann Marie, head of sales and marketing at La Bouysse with the escarpment of the same name in the background and the view of La Bouysse from the other side, heading to Limoux)
La Bouysse are a small vineyard, only 120,000 bottles in total so they fit Whirly wines profile very well indeed. I already have a small parcel of their Viognier reserved, which is sold out apart from this small amount so now its up to Mr Whirly to get the wines over from here and into the Whirly shop. I expect that to happen in the next week or two.
From this little village close to Narbonne I had a 90 minute drive to Limoux, a wine region that even more so remains undiscovered but makes some of the most exciting yet unheralded wines in the south of France. On the way I drove up the Gorge  de L'Orbieu, which wound its way up to around 600 metres then down the other side to Limoux and past  the remains of Chateau Durfort, one of many Cathar castles built here one thousand years ago. The picture below is of the Chateau D' arques a few miles down the other side of the Gorge de L'Orbieu.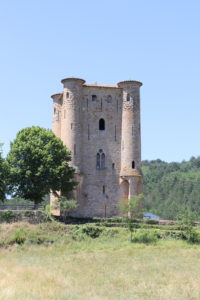 At Limoux, I had already spotted a vineyard I would like to visit, having crossed its path the day before on my way to Lagrasse over and around the country hills and forests that are full of deer and wild boar.  Limoux is famous for its status as " AOC Limoux Blanquette de Limoux" and " AOC Cremant de Limoux". I drove with as much speed as my Fiat 500 would allow up the windy road behind Limoux to " Domaine de Fourn" where I quickly tasted two wines, the "Blanquette de Limoux Brut Carte Noire 2013", made from 90% Mauzac, 5% Chenin and 5% Chardonnay, hand picked and matured in bottles for 15 months in the cellar. Very, soft and elegant and a truly delicious wine. I also tasted the "Blanquette de Limoux Brut Carte Ivoire 2013″ made from 90% Mauzac and 10% Chenin. Another exquisite wine, possibly slightly sweeter than the Carte Noire but with another really delicate flavour and mousse. I was really surprised by the quality of these wines and I shall look to import some small parcels very soon.
From Limoux I had a three hour drive to Pau via Toulouse in order to get there in time for the Spain v Italy match. I shot back onto the autoroute just north of Castelnaudry ( famous for its Haricot beans for Cassoulet) and drove as rapidly as my Fiat 500 would allow me to this city close to Tarbes and Lourdes. Why you might ask was I heading here? Well, just south of here is Jurancon, a region whose wines I have always loved and yet never had the chance to visit. The next morning, after England had failed so awfully against Iceland and the French were loving there own  little double edged meaning of " Brexit", I spent about 50 minutes driving to this little Appellation that specialises in Gros and Petit Manseng varietals. Only 50 since I had a meeting in Eauze in Gascogny at 1pm and it was already 10am.  I found some wonderful Jurancon wines from Camin Larredya and Clos Thou, that are on either side of a vallye from each other and yet which were so so different. I tasted the La Part Davant 2015 Jurancon sec at Larredya that was very expressive and exotic in terms of fruits on the palate. At Clos Thou I tasted the Jurancon sec Cuvee Guilhouret that was so, so different from the Larredya, more minerally and textured and not so full of fruit. Why were they so different? I have no idea since I had to visit Tariquet in Gascogny, wines that I have already imported but I shall let you know their makeup and why they are so poles apart once the wines are in the shop in SW17.
Next wine tour Piedmont and Tuscany, 10th-13th July, visiting Brunello and Barolo as well as other vineyards.
( the view across the valley from Camin Larredya to Clos Thou and the woods in between)