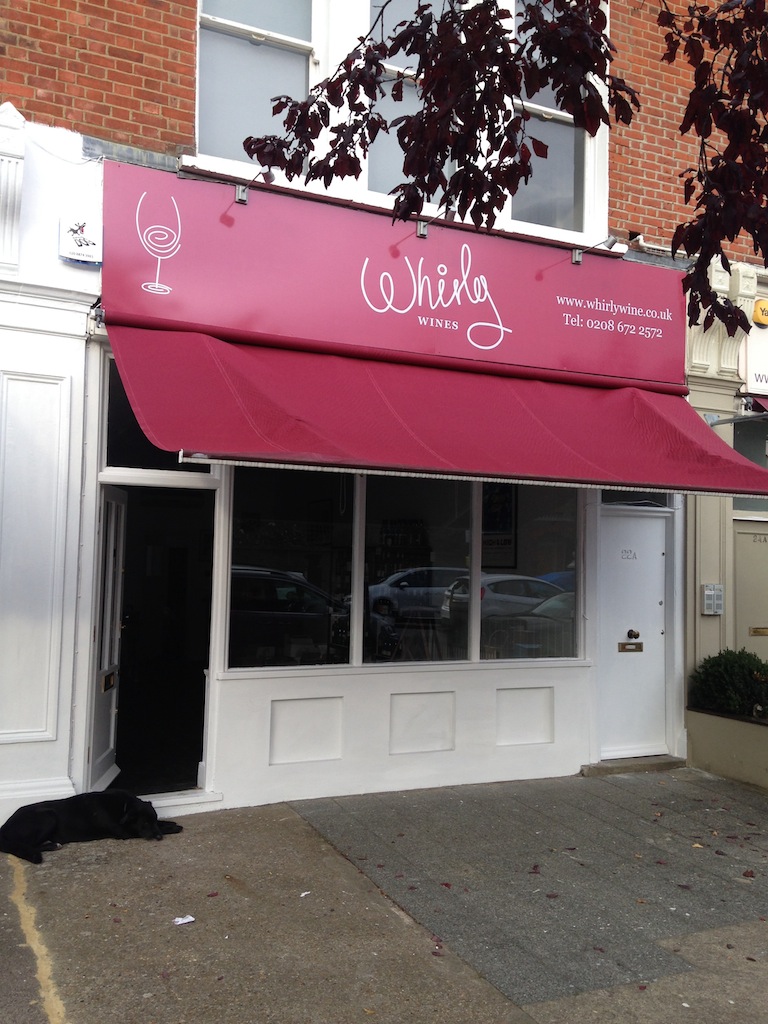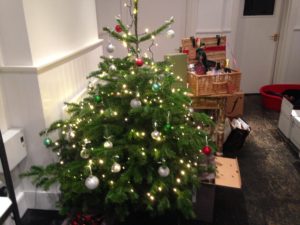 The fantastic new Whirly Wine shop is now open at 22 Ritherdon Road, London, SW17 8QD.
Every Thursday I shall be hosting a tasting of new wines or wines suitable for the festive season.
This Thursday 3rd December I plan to taste two lovely wines that would be perfect for your Christmas party: carefully made wines from Corbiere in South west France from Fontareche in Domaines de Lamy. Both wines are priced at £7.99 yet offer some really lovely drinking for this price. The white is delicate and so easy to drink, made from 70% Colambard and 30% Vermentino. The red is made from in a similar vain, soft sweet tannins and so, so easy to drink. Made from 35% Mourvedre, 35% Syrah, 15% Grenache and 15% Carignan. Black fruit and Gamay undertones.
I have also put together my Christmas Hamper that includes some lovely Venison Charcuteries and Chorizo, Spiced Cranberry sauce, Black Gold Ale Mustard  from the Cairngorms and Seville Orange Marmalade; mixed in with this some amazing Oloroso Sherry from Don Gonzalo, some Glengoyne Single Malt Scotch Whiskey, Visciole NV ( Cherry and LaCrima  grape pudding wine perfect with Chocolate) as well as some delightful LeMoss Prosecco from Ca di Rajo in Treviso. Oh! I forgot theirs an amazing Dundee cake in there too!  Price: £110.00 ( above is a photo of the hamper and tree!)
Also just in some lovely Harveys beers from Lewes in Sussex. 500ml btls priced at £3.25. Also if you would like a polypin for Christmas I can order them for you. 32 Pints at £2.75 a pint ( £88.00). Great fun if you are having a Christmas party!
New wines have just arrived this week from Willespie in Margaret river: this is the home of Cabernet in Australia, they " hang their hat " on this grape and I have a Margaret river red that introduces this  Premium red wine region at £14.20. Its 2010 and its made from Cabernet, Merlot and Shiraz. I also have some lovely Margaret river white made from the four White grapes this family vineyard grows: Verdelho, Semillon, Sauvignon and Riesling. Another delight to drink and again priced at £14.20.
Lillypiilly ( great name!) make lovely pudding wines ( stickies as the Aussies call them) and this is what they are famous for. They are based in Leeton on the Sturt highway that loops across NSW and South Australia from Adelaide to Sydney. I have new Shiraz 2012 prices at £12.20,  a caramel wine yet with some lovely juicy notes  and not at all overpowering,; some delightful Sauvignon Blanc 2014 priced at £12.20 and at last Tramillon is back! This demi sec wine is a real wonder wine and I have done so well with it over the years. Its a blend of Gewurtztraminer and Semillon and is pretty good with Thai curries as well as Foie gras. The new Noble Harvest 2012, a botrytised wine made from four tropical grapes is also here in this parcel of wines and priced at £18.95. I also have older vintages of this wine and its a wonder with a steamed ginger pudding or something tropical if you plan to have a desert like this over Christmas then please come in and have a chat about it. Lastly, the Fiumara 7 is here, a blend of the best cuvees of fortified wines that date back to 1982 when the winery opened and grapes included are Shiraz, Cabernet and Chambourcin to name but three. A fab wine with Christmas pudding and very special indeed. £19.50
I look forward to seeing you tomorrow night when we can talk wines, beer, food and hampers and maybe even Christmas since its not too early to talk about this now.
Thanks for reading this!
Mr Whirly