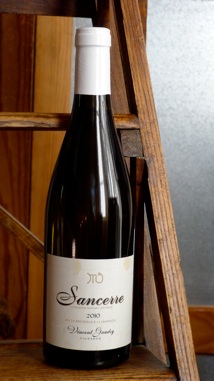 Mr Whirly says:

" I visited Vincent's little hamlet on the road running west of Sancerre on the 30th July this year. He's such an unassuming fellow that it took me 90 minutes to find his house and shed where he makes his sublime wines, no signage being present on the little streets of "Les Petit Chambre" at all. He makes wines in a very careful way and indeed secretive. Some of the wines I taste that afternoon I am not allowed to know where their origin is. I did not believe that Sancerre should be oaked before I tasted his Scorpion label wine. Now I am convinced.

Vincent Gaudry is well known throughout the business as one of France's most secretive winemakers. What is known of him, however, is that he is very much at one with nature. He harvests his crop, 'when the vines tell him to' while his vineyard is home to an array of standing stones which he believes his ancestors constructed in an effort to channel energy between earth and heaven. One thing that is common knowledge however, is the sublime quality of his wines, which are among the Loire's most stunning, surely justification for the unusual methods which Vincent utilises.

On average the vines are 35 years old. Meticulous care and manual harvest. Vincent is there every step of the way, including the several months the wines are aged on the lees before bottling.

Alc vol: 13.0%