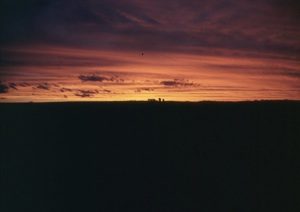 The Macedon ranges
Victoria is the smallest yet by far the most exciting and diverse wine state of Australia. The wine regions are numerous and dotted all over the state, very rarely are you not within sixty miles of some vines. I was lucky enough to spend about six weeks in total here in 2000, staying with winemakers and friends I met along the way. I loved the higher regions of the Pyrenees and the Grampians, vineyards like Summerfield and Redbank  (Sally's Paddock is a particularly good wine) spring to mind as being a little bit special. Mix these in with the more hilly Yarra and Macedon, and the warmer regions of Beechworth, Bendigo, Ballarat and the western Victoria zone where Bee Thomson and her father John make some stunning wines at Crawford river near Condah in the middle of nowhere, and you have a really diverse landscape of wine country. I shall always remember visiting this lovely homestead and meeting the Thomson family. Another wonderful man was Norman Latta at Eastern Peake,  a top Pinot maker at Coghills creek near Ballarat. They were very friendly and warm, like most people I have had the joy of meeting through wine in this great country. In one day I remarked on the diversity of this wine region in my journal:
15th April 2000
" Up early, can't sleep in car too long since it gets too hot. Breakfast by road of bacon sandwiches and teas (herbal, easier to make, no milk). At 8.55am at Chateau Leamon, then Blackjack, beautiful valley, leaves turning golden on the vines. Reds a speciality. Wonderful dogs too, one black Labrador and one small doggy. Fed black one some crackers for breakfast. Great shiraz here. When I left black dog looked at me forlornly. Very sad. Coffee at Gonella's café in Keyneton, Great café. Virgin hills tasting room here, famous wines. Their trio wine was slightly disappointing. Cabernet sauvignon. Then onto Cobaw Ridge and Granite Hills. Welsh countryside like the Brecon Beacons here, winemaker at Granites Hills is called Llew so that makes sense. Across country to Seymour then quickly up to Chateau Tahbilk, great cellars, diversity of country and wines amazing in one day. Victoria is rare for this quality. Mitchelton contrasts so well with Tahbilk. Modern architecture here compared to the old cellars."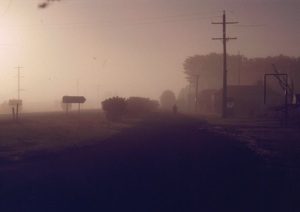 The Macedon ranges and in this case, in particular the ridge around Cobaw just east of Kyneton, high up on the cups of the great divide at over 600 metres, has a micro climate all of its own. I love this country: its rugged, dry farmland reminds me of Mid Wales with all the sheep dotted on the landscape intermingled with boulders of granite rock, except it's a little brown rather than green here most of the year, of course.  In February 2006, when I was last here, in the middle of the summer, the weather completely unique; wind and rain rolled around the ridge for a couple of days and when Alan and I drove to Passing clouds vineyard near Bendigo, about 100 miles north, the temperature went up from about 20 degrees to 35 degrees! So no, Australia is not one big bowl of heat as some think. This is the coolest wine region on the Australian mainland.