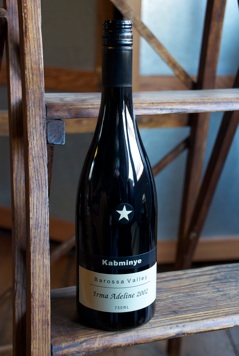 The Barossa Valley and roads to it….
I have fond memories of the Barossa valley. I arrived here in March 2000, slightly bedraggled after a five week tour of New South Wales and Victoria vineyards and then a drive up the gorgeous coast highway past the Twelve Apostles and into South Australia. I was keen to get involved in the ensuing vintage that was about to envelope this region and also running out of cash fast.
After driving north from Adelaide I arrived in the valley at the Southern most point and started asking for work, by literally going from door to door. It did not take me long to find it since it was early March and  picking is about to start so there should be much need for quick hands. I met a lovely man, looking in my journal back from 2000, his name was Ross Koch and he owned a number of vineyards just south of Grant Burge that were contracted grapes for vineyards like Grant Burge. He was of German heritage ( Silesia to be exact) as are many here in the Barossa, when in the mid 1850's they fled their homeland "en masse" protesting against certain new religious formalities.
Ross allowed me to put my little one man tent right in the middle of his vineyard: it was close to a lake which I bathed in at night time after 10 hours picking and I had a lovely three weeks living out there. The truck would pass at dawn, or very soon after, and pick me up and off we would go to meet up with the gang. I shall recite a few words from my journal:
"….worked all week picking grapes. Hard work, back killing me. A week of sirens waking you up and rounding off your day, quite surreal in some ways, SMOKO (this basically means cigarette break in Australian wine pickers lingo), sirens for lunch and sirens telling us we can go home. Hard work but great fun: fellow workers are incredibly odd but lovely, laughing at the same things every day whether it's the tractor, siren, buckets or grape clippers. All seem to grow grass, in the hope that they might make $20,000 and then live a life of luxury for a few months."
After a few weeks here, I must admit I needed a change, but it was a wonderful experience and Ross Koch's kindness and trust in me showed me that the people in this region are kind and good. I then landed on my feet, came up smelling of roses, when I traveled north through the valley to the north and to Truro. Here I found a little café called Zilm's and a winery called Craneford, owned by John and Bev Zilm. I then spent the next two weeks working with John in the winery, pressing and mixing grapes and also spent some time in the café with Bev re-designing their service strategy. With this came a lovely bed, a double, and a bath which was most welcome!!
We spent the next three weeks rising with the sun, to avoid the intense heat that would kick in after ten in the morning, picking grapes in little nooks and crannies dotted around the Barossa valley before returning home in the early afternoon, tired and bedraggled, like a tuk-tuk driver in the far off city of Varanesi in India and then beginning the crushing and pressing of the grapes we had picked. We would generally finish at twilight. It's a long day in the vineyard during vintage. One eat's, washes and collapses watching Australian rules, which in this part of the world means the Crows from north Adelaide. I found it difficult to get into this game despite John Zilm's urgings. Much more of interest was tuning into world service on short wave on my battered yet faithful Sony radio, trying to find out what was going on in the outside world and in the world of sport too. I remember one night soon after this as I toured the impressive Flinders ranges which is north of Barossa heading up into the outback, where I walked around Flinders Ridge which was a good days hike and listening to Liverpool, my team, beat Newcastle 2-1 at 2 am by the light of my campfire out in the wilderness. Shouts of joy from inside the tent lit up by a candle in the middle of this vast red soiled landscape, could be heard for miles around!. These were fun times. By the way if you ever get up to the Flinders do try to visit the wonderful Prairie hotel at Parachilna where there's a great menu and wine list. I ate Emu pate and a burger and then remember feeling distinctly uncomfortable by the looks from the local's when I ordered a Ricard! Stick to beer up here Simon! From here I ventured up the Oonadatta track as far as the falcon would take me and until the smell of sulphur and loneliness propelled me back south. Also, rain from Queensland were on the way, gushing west along old creeks now flooded with water and this was no place to get stuck!
I enjoyed most of all, picking grapes one morning in an old Grenache bush vineyard which I seem to remember was almost one hundred years old, at least they are now, ten years later. The grapes were few and far but the quality was gorgeous and it stuck home that this wine area has some history and stature behind it. I also remember one morning, driving over to Ardrossan ( of Ayrshire heritage I presume) on the Spencer gulf, on a road which heads west to the Nullarbor. John Zilm had promised me a day of crabbing, for large angular blue crabs on the beaches. Fun I thought and indeed it was. Funny for John that is. He had only bought one pair of Wellington boots and the water was up to one's knee's which made it very difficult to move at speed. The hook that we used to catch the blue crab, by hooking it round one of the legs and putting it in the bucket, was harder than I thought it was going to be, and the problem was if you were unsuccessful first time the crab didn't like you disturbing him and he therefore swung into attack mode with his large pincers spread wide in front of his body. The sight for John was wonderful I am sure, as I tried to flee the crab every few minutes whilst unable to move very fast in the water. I am sure John purposely forgot the Wellington boots. I caught two crabs in about an hour, spending most of my time splashing around in the water and John caught the remaining one hundred or so! We returned home, delighted and full of verve and cooked all the crabs up in a large pot and ate them with a homemade Thai chilli sauce washed down with some aged Semillon. It was a wonderful day. I have lost touch with John and Bev Zilm which is a pity. I know that he is no longer involved in Craneford wines, which is sad. If you out there or if anyone knows where they are please let me know.
Mr Whirly says:
"The southern Rhone experience and in particular Hermitage, yet this wine is from the famous Barossa valley in South Australia. Hand picked Syrah, Mataro (Mourvedre to us Northern Hemisphere's), Grenache and the final " Coup de Grace", 10% Marsanne and Roussanne ( white varietals) with six years bottle age make this soft, alluring and spectacular for Autumn and winter drinking."
Alcohol: 15.0%
Kabminye Vineyard, Barrossa valley
Kabminye is an aboriginal word meaning "Leading star". This wine jumped out at me in February 2006 on my last day in South Australia before flying home via Perth to London. It's a unique blend of Southern Rhone red varietals with a touch of the Hermitage influence, with the 10% addition of white varietals with some Marsanne, Roussanne and Ugni Blanc.
Irma Adeline 2003
This wine honours a unique woman: Irma Adeline Dallwitz.
Irma is descended from one of the first Silesian families to settle in the Krondorf area. The piece of land in which the winery nestles has been in her family since their settlement in the mid 1800's. In upholding traditional Barossa valley family values while embracing modernity with enthusiasm she truly embodies Kabminye's philosophy of celebrating the past, present and future of the Barossa valley.
This wine combines the Rhone philosophy of blending Grenache, Shiraz and Mourvedre with the Hermitage style of adding Marsanne and Roussanne.  Balanced flavours of plum, black cherry, marzipan and mocha.
This unique wine is made with 60% hand picked and pruned premium Shiraz from Tanunda with 20% Mataro ( Mourvedre) and 10% Grenache from Lyndoch, and the balance of white wine varieties including Marsanne, Roussanne, all from the Barossa valley. Each parcel of wine was matured in seasoned French Oak barriques for fifteen months. The result is a very complex fruit driven wine. Drink now or cellar for seven to ten years.