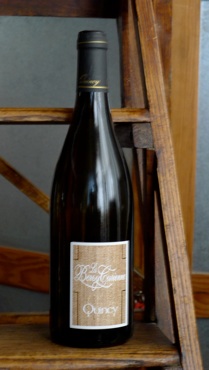 Mr Whirly says:
The " King of Quincy" wines are here at last!!
I have visited Jean- Michel Sorbe's vineyard, thanks I  might add to Armelle Poole-Connor , wife of a very old family friend Murray, whose family are cousins of the Sorbes, on two occasions now. On the first occasion I drove to the wrong Preuilly ( there are two in France) with Simon Thomas,  a close friend from my Bibendum days, and rang rather embarrassingly to say that I would not be there for lunch, since I had arrived at the wrong Preuilly, thankfully only 100 kms due west of this pretty little village on the Cher river and there were no vineyards in evidence in the surrounding countryside. I arrived for dinner instead. Good start Whirly! ( the offending map with a 20 franc price tag on it lies abreast " The Booter" with a light lunch above it, before it had caused such agony in missing madame Sorbe's lunch)
On the second occasion, in July 2012 I sped over to Preuilly from just south of Sancerre, through the lovely forests and rolling hills to meet " The King of Quincy" again, very much in  a hurry since I was due back in Sancerre to meet Vincent Gaudry later that day. I tasted with Jean-Michel Sorbe his 2010 " Les Berry Curiens" and ordered it. Its benchmark Sauvignon and in its way so different to Sancerre. This wine is also made from  some of the oldest vineyards that Mousieur Sorbe owns, over 80 years old.
Why the name?
The "Epicurean berry", derived from the monks at the Abbaye de Beauvoir and their brotherhood in 1234 is now a group of friends with Jean-Michel at the head and they are following the same lines of work.
The " King of Quincy" wines are here at last!Jean-Michel Sorbe really is the man that has put this 'home" of Sauvignon Blanc in the world (this famous grape was originally grown at the Abbaye de Beauvoir just down the road from Preuilly and Quincy). He is recognized as one of the most important figures in Loire winemaking.  This is top Sauvignon blanc, hand-picked from four separate vineyards, fresh yet with loads of zingy depth. This is one of the finest examples of traditional Sauvignon Blanc, out of tank and into the bottle.
Both vineyards are located in the heart of Berry (Approximately 200 km south of Paris), a few kilometres west of Bourges. This is not the Loire proper but south and slightly east, on the banks of the beautiful river Cher.
Alc vol:13.0%