Cote de Duras is Cote de Duras. This sounds logical but its actually something very important to emphasise. Its right on the border of the Bordeaux appellation, literally a few miles separates them but this region of France could not be more different than its more famous neighbour. There are no pretensions here. The wines are what they are: honest, clean and fresh and cracking value. The Blancheton brothers are the same, Patrick and Francis, once prop forwards in the local rugby side and Francis sports a fantastic moustache to match his physique.
I have been in love with this part of France since a little lad, when we had a house just up the road on the road to Bergerac in a little hamlet called Thenac.
When you think Bordeaux you think wonderful wines from the left bank, Leoville Les-Cases in St Julien being my favourite. But in terms of wines that you can find at a price point that most of us can afford nowadays, forget it, there's not a chance of finding something decent at £6.95 a bottle. I am delighted with my Cote de Bourg at £11.95 a bottle yes but thats still £11.95.
When I visited the vineyard in October last year the Blancheton brothers were in the midst of vintage. The grapes were bubbling away in the  old tanks that they have here at the vineyard and it was incredibly exciting to witness a family heritage of four generation in full flow.
I have bought over three wines from this lovely little vineyard; A Sauvignon Blanc 2011, a Bordeaux blend of Cabernet Franc, Merlot and   Cabernet Sauvignon 2010 and a rose made from the same grapes as the red.
I think these are fabulous every day drinking wines, really easy to drink and wonderful quality for the price.
Tasting notes: ( with the help of friend and client, Sarah Guignard at the French Table in Surbition, South west London."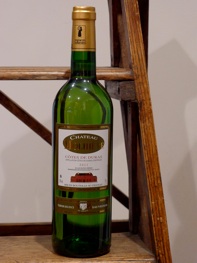 Sauvignon Blanc 2012, " Terroir de Ducs":
" Mineral tones, zippy and balanced grapefruit, lemon and lime. Quite weighty."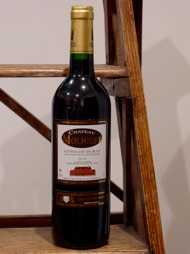 Cabernet Franc, Merlot and Cabernet 2011," Terroirs de Ducs":
" Earthy, raspberries with a hint of  herbs, soft easy drinking tannins."
Alc vols: 13.5% for the red and rose, 13.0% for the white