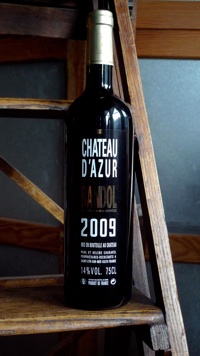 Chateau D'Azur, Bandol, 2009
I have always wanted a Bandol in the pack and now I have one! Karen Frankel (my buddy from San Francisco on this wine sourcing trip in July 2011) and I were incredibly excited about  our little trip to Bandol. We again cut to the chase and found a lovely wine shop in rather a disappointing town centre, sadly, too many tourists shops and headed out of town to discover the delights of the surrounding countryside. The next morning, after much driving around the country roads and getting lost, the art of following signs to vineyards that then suddenly disappear, again being witnessed by ourselves we eventually drove into the unassuming driveway of Chateau D'Azur. Our efforts were not in vain!
This wine is made by up and coming star Gael Cluchier for owner Paul Chavel. Made from 90% Mourvedre and the remaining 10% is made up from small parcels of Grenache, Cinsault and Syrah.
Mr whirly says:
" Juicy and fruit forward yet unlike a lot of Bnadols this wine drinks so well immediately after the cork has been taken out of the bottle.  Great fruit forward wine yet with subtle summer herb aroma's"
Winemakers notes:
" The vines were planted in 1990. We do not use chemical products on the vines and we also use Organic fertiliser. Hand picked in small bins. Yield: 30hl/ha. Crushed and de-stemmed. Fermented and Macerated over three weeks and pumped over everyday. Pressed after three weeks and blended with the freely run juice. Malolactic fermentation before the winter. 18 Months in Bordeaux Oak barrels. Blended and bottled in the summer of 2011. Intensely dark colour. This wine is strong. Spicy (pepper, cinnamon and Liquorice) and also Toasty. Decant and leave for one hour. Good ageing potential
Alc vol: 14.0%